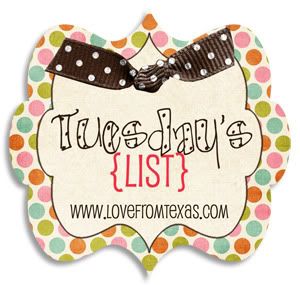 Okay, so my grocery list is usually dependent on that week's menu, but here are the items we buy on a regular basis:
Bananas
Frozen vegetables (spinach, green beans, corn, peas [for Avery and Matt

only

. eww.], broccoli)
Baby carrots
Salad (you know that huge box of organic salad? Yeah, we buy that)
Salad dressing (you need a lot of this when you buy that much salad...)
Tortilla chips/salsa
Milk
Cheese (we go through shredded cheese like nobody's business)
Eggs
Bread
Ground turkey
Frozen chicken breasts
Diapers
Wipes
Formula
Dog food (two 50-lb dogs eat a

lot

)
Crescent rolls/biscuits
Cereal

Ground beef
Produce (cilantro, tomatoes, onions, apples, sweet potatoes, regular potatoes)
Crackers (oh my goodness, those new Special K ones are

amazing

and I'm a sucker for Wheat Thins

)
Pasta/sauce (yeah, I should make my own sauce, but I don't. sorry.)
Rice
Whatever else we need for specific recipes and whatever I have good coupons for that match up with store specials.
What's your typical grocery list? Join the list of list-makers
here
.