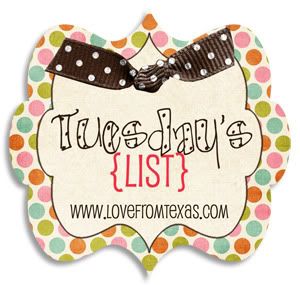 It's that time again! Today's list is favorite TV shows and, well, I just don't really keep up with that many shows anymore. I'm kind of thankful for this fact though, and we're even giving up our satellite again when this contract is up. Here's my list anyway:
1.
The Office
: This show makes me laugh ridiculously hard. The characters are hi
larious,
the story lines are beautifully random, and the writing is just plain funny. This is probably the only show that Matt and I both love equally and actually watch on a regular basis. Brilliance.


2.

Say Yes to the Dress

: I can watch this show for hours, and I honestly don't know why. It's just a bunch of girls with outrageous budgets trying on wedding dresses at Kleinfeld. Whose idea was this?


3.

Bridezillas

: Again with the wedding shows. Here's another one I could easily get sucked into watching a mega-marathon of (much to my husband's chagrin). In fact, during my wedding planning days, I was "forbidden" to watch it because it gave me nightmares. And it's been three years since I planned a wedding...go figure.


4.

Property Ladder

: I secretly want to flip a house, so I live that dream vicariously through this show.

5.

The Big Bang Theory

: This show is so stinking funny and through it I can embrace my inner nerd. :) I actually don't even know when it come on TV, but I'm happy to just watch the episodes that Matt downloads to his mp3 player.




Past loves (honorable mention):

Friends

(classic),

The O.C.

(guilty pleasure)

, The Bachelor(ette)

(Jason ruined it for me)

, Grey's Anatomy/Private Practice

(just don't have time to follow a storyline)