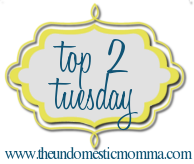 1. Write about what you want to write about.
I know that seems like a
duh
, but if you try to force a post or topic, it's pretty apparent. I write my blog so our family can look back on it in the future and remember what we were up to at a given point in time. So right now that means I post about pregnancy, toddler-hood, what we do on the weekends, my opinions on everything, and just whatever pops into my head. Usually it's not too deep (I personally prefer to keep those thoughts for real-life conversations), but it's also a way to keep family and friends up to date on our lives.
2. Schedule your posts.
For me this means two things:
1)
I try to keep a general routine to my posting so I don't sit down and go
uhhhhh, what do I write about?
I do pregnancy updates on Mondays, organizing challenges on Thursdays, my Friday Five (and sometimes Show Us Your Life), weekend updates on Sundays, and sometimes a Wordless Wednesday or Tuesday's List (maybe now Top 2 Tuesday instead?). I can still tailor each post to what I feel like writing, but it gives me a starting point.
2)
I blog when I have time (i.e. when Avery's napping or when she's asleep for the night and Matt's not home), but it's not always ideal to publish five posts in one day. Enter post scheduling. I write as many posts as I feel inspired to write in my given amount of time and then schedule them to post later in the week. It keeps my posting more consistent while giving me the freedom to write when it's convenient, not because I feel like I
have
to.
I'm not a professional blogger (ha!) to say the least, so check out
The Undomestic Momma's
MckLinky for more tips!